LOL! I know it has been like 2 months since I have blogged! Shame on me! I have been so busy with all the summer activities, work and school starting back up and then on top of that I tore up my craftroom with the intentions of reorganizing, well needless to say it has taken me 2 months with everything else going on...lol. Now I have to find my mojo again. Has anyone seen it? Got some spare to share?
Patrick is a 1st grader this year and isn't too happy about it either..lol. The problem you may ask? He seems to think he should be able to talk whenever he wants and thats just not happening..lol! Other than that it is going well.
So this week we at
Stamp, Scrap and Doodle
we are helping celebrate
Operation Write Home's
birthday celebration! We hope you will join in the fun. OWH turned 3 on Sept 12 but they are having a month long celebration! So head over to their site to find out all about it.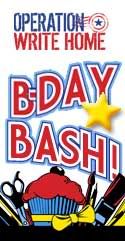 The challenge this week is Birthday Cards. We are asking for cards specifically because we would like for you to commit to sending them in to
OWH
! We have a great prize up for grabs from
Craft Brulee
also. There is also a DT CALL going on at
Stamp, Scrap and Doodle
, so head over there to find out all the deets!
Now at
Scrap and Stamp
the challenge is Numbers! We want you to use numbers in a fun way, in the papers, the title, anyway you can think of. Be sure to use at least one stamp on your page too!
The Cutting Cafe
is sponsoring us this week and someone will get 3 cut files!
I promise it will not be so long until I post again. It might now be crafty related because I am in serious need of finding my mojo!!! Have a great weekend!!