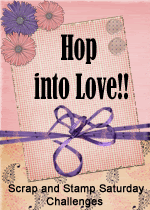 Today is the day!!! We are having our first ever blog hop at Scrap and Stamp! We are super excited! If you just happened to stop by my blog today, thank you, but you should go to Scrap and Stamp to get all the info on the hop. If you are coming here from the Scrap and Stamp blog you are on the right track, thank you!

I want to say a huge thanks to my design team! They are the best I couldn't do it without them and their gorgeous creations!!
Now I love Scrap and Stamp because it makes me use my much loved stamps on my layouts. As stampers we all tend to use them on cards but not so much on our scrapbooks. Why is that exactly?? I don't really know. But they make for great embellishments that are cheap (well in the long run) and plentiful since we can use them over and over. And if you get creative you can give the same stamp several looks. We offer a new challenge every Saturday so I hope you will join in the fun.

On each blog you visit you will see a fabulous layout based on this sketch by our very own Pamela. So there will be lots of "love" inspiration this weekend!
Here is what I did with the sketch. It is a layout of me and my hubby! I kept it really simple. It seems to be the style I am stuck on right now...lol. I used a gltter glaze pen on the arrow to give it a little sparkle. I love this stamp it comes with 3 different arrow heads so you have 3 different looks. You can find this stamp at Thats Jazzy Stamp Dream.


supplies: Basic Grey pp, Bazzill cs, Maya Road chipboard alphas, American Crafts chipboard "&", Making Memories rubons, paint and glaze paint, Recollections pearls, Wilton paper doilie, distress ink, Inique Boutique border stamp, Thats Jazzy Stamp Dream arrow stamp.



There will be 3 huge prizes plus a few RAK's along the way. Here is the low down on the prizes and how you can win!!

The first prize drawn will be

for someone who comments on each blog

. It consists of this fabulous package donated byLacey of
Stamp and Create
This package contains a 12x12 Basic Grey Sugar Rush paper pack
1 Basic Grey Hearthrobe Clear Stamp Set
1 Wags and Whiskers "Steal a Kiss" rubber stamp
The second prize is for someone who

comments on each blog and completes the sketch

and links it back to Scrap and Stamp before midnight on Sunday.

4 each of 7 double sided Glitz Designs pattern papers
1 package of Glitz Designs pink and white flourish rubons
4 packages of Glitz Designs frosting
And the third prize pack will be for a new follower to Scrap and Stamp who also comments on all the blogs.
This package is a Tango kit from Studio Calico.
4 Basic Grey pattern papers
1 sheet of Basic Grey alphas
1 package of Basic Grey woolies
1 package of Basic Grey rubons
1 package of Little Yellow Bicycle clear cuts
1 package of Making Memories pearl brads
1 Studio Calico acrylic stamp


I will be giving a $10 gift certificate to my friend Sheila's shop....Thats Jazzy Stamp Dream. You can find here site HERE or her etsy shop HERE! Winners will all be picked on Monday Feb 8th!
If you become a follower (or already are) of my little blog I will put your name in twice...just leave a second comment saying so.



So now you need to hop on over to Pamela's.



Here is the hop order just in case you get lost along the way....